This is a mapee of the Tampa, Florida area.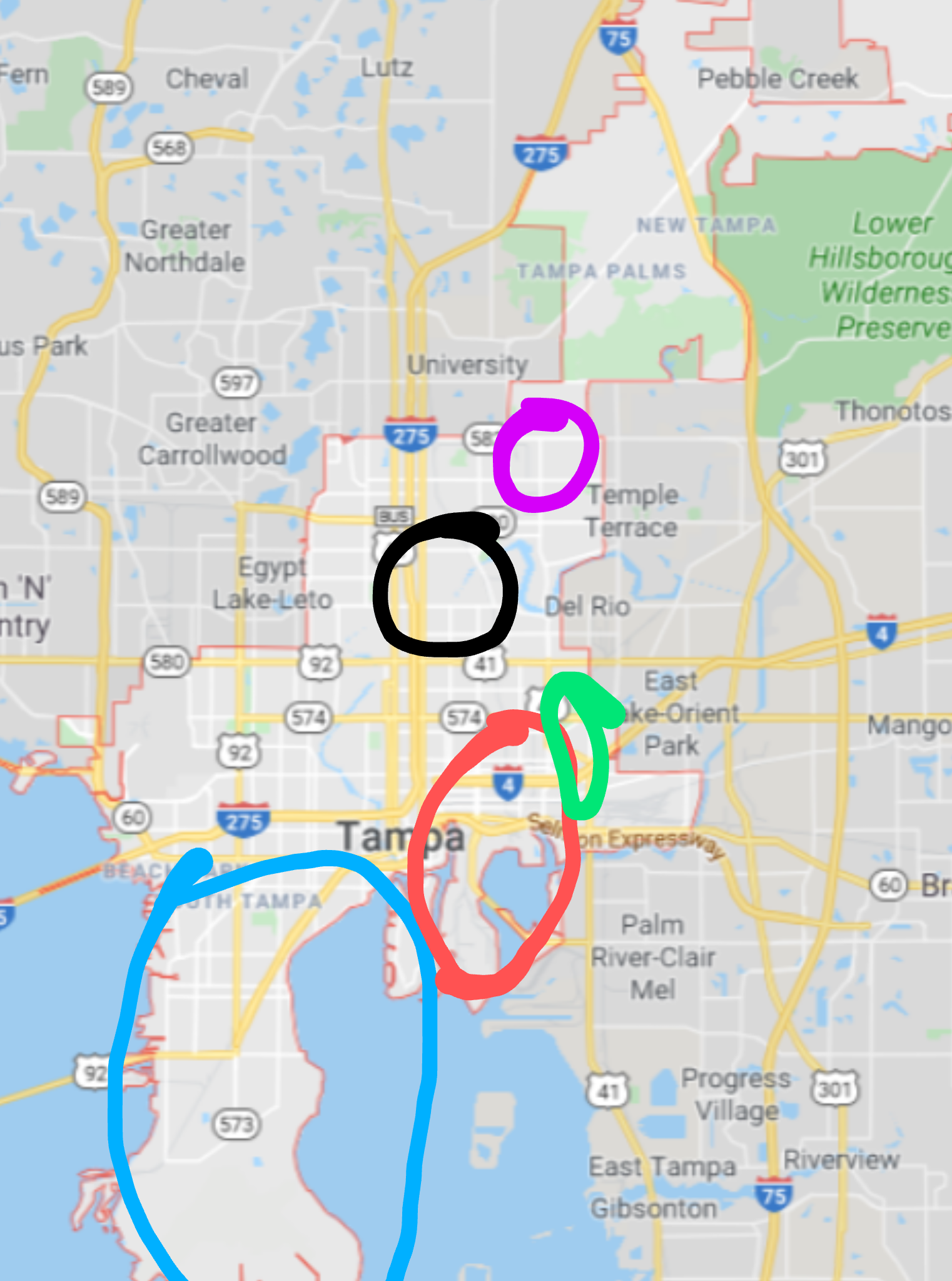 South Tampa- Blue Region
This area is one of the more upscale areas of Tampa. Featuring places like Bayshore Beautiful and Ballast Point, you're likely to see a range of unique and beautiful houses. However, if you like to shop, you may want to select a different location to enjoy a shopping spree. Many boutiques and eccentric shops are located in South Tampa. But the prices can be expensive at times. Although you'll never have to search for food. With a variety of restaurants catering to every carving, you can pick and choose precisely what you want. South Tampa may not be for everyone with heavy traffic and high prices; it can be a little overwhelming at times. But before you go looking for another destination, just realize it features some of the most beautiful views. 
North Tampa- Purple Region 
This area is known for its attractions. Home to Bush gardens, Lawry Park Zoo, and Adventure Island, North Tampa, is home to many favorite activities. Not to mention, the University of South Florida also resides in this region. However, college students tend to move from college to college rather frequently that locals have termed the area, "suitcase city." North Tampa doesn't generate such high prices as other parts of Tampa. Instead, it offers an urban mix to its restaurants, nightlife, and living quarters. 
Downtown- Red Region
For all the art lovers out there, downtown Tampa is for you. With museums such as the Tampa Museum of Art and the Glazer Children's Museum, you can experience the wanderlust of the creative process. Downtown Tampa also features the Straz Center, which houses plays, musicals, and classical opera. However, one must be warned downtown Tampa experiences heavy traffic on a day to day basis. Since it's part of the business district, you're likely to see a large amount of business professionals. However, when visiting downtown Tampa make sure to bring your walking shoes and some spare cash. Parking can be extremely difficult to find in some cases. 
Ybor City-  Green Region 
This lively area celebrates the heritage of Latin Americans. With a Latin quarter, many Cuban and Latin eateries, as well as a booming cigar industry, Ybor City is certainly fun to visit. Unlike other places in Tampa, prices aren't too high. If you're looking for some quality nightlife, you've come to the right place. On 7th Avenue, the locals call it "a mini bourbon street." Its party atmosphere and upbeat style make it the perfect place to party into the night. 
Seminole Heights- Black Region 
This historic district has experienced a resurgence in old bungalow-style homes. If you travel down Central Avenue, you'll not only see such structures but also discover the well-known Victorian house. Since it's been transformed into a bar and grill, many people go there to enjoy dinner. Seminole heights also features great local dining establishments. Since their not too expensive they're perfect for any family to enjoy. Seminole heights nightlife, on the other hand, is unique. With hipster menus and crafted beer on tap, Seminole heights captivates the attention of an elevated bar scene.